*For anyone who needs a recap, our little Sunley Summit has Hypoplastic Right Heart Syndrome (HRHS). Specifically, she has Double Inlet Left Ventricle (DILV) and Double Outlet Left Ventricle (DOLV), which is incredibly rare. What should have become a right ventricle is just a strip of tissue in her heart near her aortic valve. Her prognosis has many unknowns, but we are very hopeful for her future. We are getting care at Texas Children's Hospital in Houston, TX, whose heart center is ranked number one in the nation. There is no real cure for Sunley's condition, so the plan is to do a total of 3 heart surgeries (PA Band, Glenn/DKS, and Fontan). Our hope is that these surgeries will work well enough to avoid a heart transplant and she will lead a long, full life with only those 3 surgeries. We moved from Midland to Houston on March 7th, 2018 and Sunley was born the next month. Sunley spent her first 6 days in the NICU, went home (Houston home) for a while, and then spent 26 days in the hospital after her first surgery (PA Banding) at 6 weeks old. She had a one week hospitalization for dehydration at 4 months old, then went home for a month. At 5 months old, she was hospitalized for low saturations for 5 days, and underwent what I've officially termed a "doing-something cath" (atrial septostomy). On November 6th, Sunley had her second open heart surgery, which required bypass: a Bi-Directional Glenn and DKS procedure, and incredibly went home only six days after that. We had to stay in Houston until after her Glenn recovery. On January 7th, when Sunley was 8 months old and after exactly 10 months away from home, we returned to Midland with ALL 3 of our kids!
ONE YEAR OLD. Birthdays are SO different around here now. Full of joy, but also full of very intense memories. Sunley is doing so well. She has beaten several colds now without any hospital assistance, including RSV back in January, and she is developmentally right on track. Our life is still in this weird transition process as we get ready to move again, but our family is all together, and that's the most important thing! We had a VERY fun first birthday celebration for Sunley at the beginning of this month. I have to admit, I got a little emotional when we were singing to her, but LET THE RECORD SHOW that I did not cry. Feel free to applaud. The party was lemonade themed OF COURSE, because when life gives you lemons…
We also have some great news: We bought 5 acres in Edmond, Oklahoma!! It is by far the most peaceful little piece of property we came across, and it makes me so happy that our offers on other houses were not accepted. The search was long, but it is complete. Unfortunately, the house on the property is condemned soooo…we are building a house! Which is insanely exciting, but also means we had to find yet another temporary home while we build (the city of Edmond doesn't allow mobile homes otherwise we would just put one of those on the property). We were going to do a container home, even met with a builder and had floor plans, but ended up deciding that we wouldn't save enough money or time to justify it. For me, this feels so right. The property is around the corner from some new friends in Edmond, and we even found a rental home just down the street! Another friend who works at OU Children's Hospital came in with some fantastic pediatrician recommendations for us, so we just feel like God is helping everything fall into place so perfectly. Our official move date is July 16th, which also happens to be our 8th anniversary. I think it's a pretty sweet way to spend our special day!
The kids are excited about the "big yard," but also just so confused, which is understandable! Trying to explain to them that we are tearing down a house, building a house, and living in ANOTHER house while we build is a lot to take in and process for little kids. They've had fun watching me make the floor plans, and contributing their ideas, though! We stayed in an Air BnB during our last OK trip, and Ruger thought it was the house we had built. He walked in and said, "Good job building this kitchen, Momma!" We will meet with some contractors once we officially move up to Edmond, and we can't wait to get started!
In other news, Sunley had a check up in Houston last week. There's no way to really describe what it's like to go back to Houston. The memories there are as heavy as the buildings that hold them, and there's just such a wide range of emotions that we feel being in those places again. Our memories are happy; Just, a heavy kind of happy. I'm really not sure how to explain it, except that withe every happy memory, there's a little bit of a sting, too. Likewise, with every tough memory is another memory of victory and hope. We so enjoyed seeing a few of our favorite doctors and nurses. We just love all those people!! This was also the first time we saw Sunley really struggle with doctors. She never likes the pediatrician either, but the appointments at TCH were understandably much longer than a typical pedi visit, and she was absolutely terrified through most of it. The echo was especially difficult, and they were unable to see a couple of important things, like, AHEM, THE GLENN. Everything looked good, though, so that was wonderful to hear! Dr. Ayres did notice some mild aortic valve regurgitation, which we will watch. I remembered (of course, after our appointment) that Sunley'd had some very mild pulmonary valve regurgitation and some mitral valve issue at her last echo, and I forgot to ask about that. I'm assuming it is either stable or resolved, but I'll ask about that next time. We tweaked Sunley's meds very, very slightly, but this means we get to move to tablet form for her Enalapril! This is huge, because after coming home on I think 8 medications, we are now down to TWO half-tablets! This sounds like nothing, but it means I get to stop cleaning syringes and pre-filling them! Now, the only prep I have to do for meds is to cut tablets in half. Little milestone, BIG deal.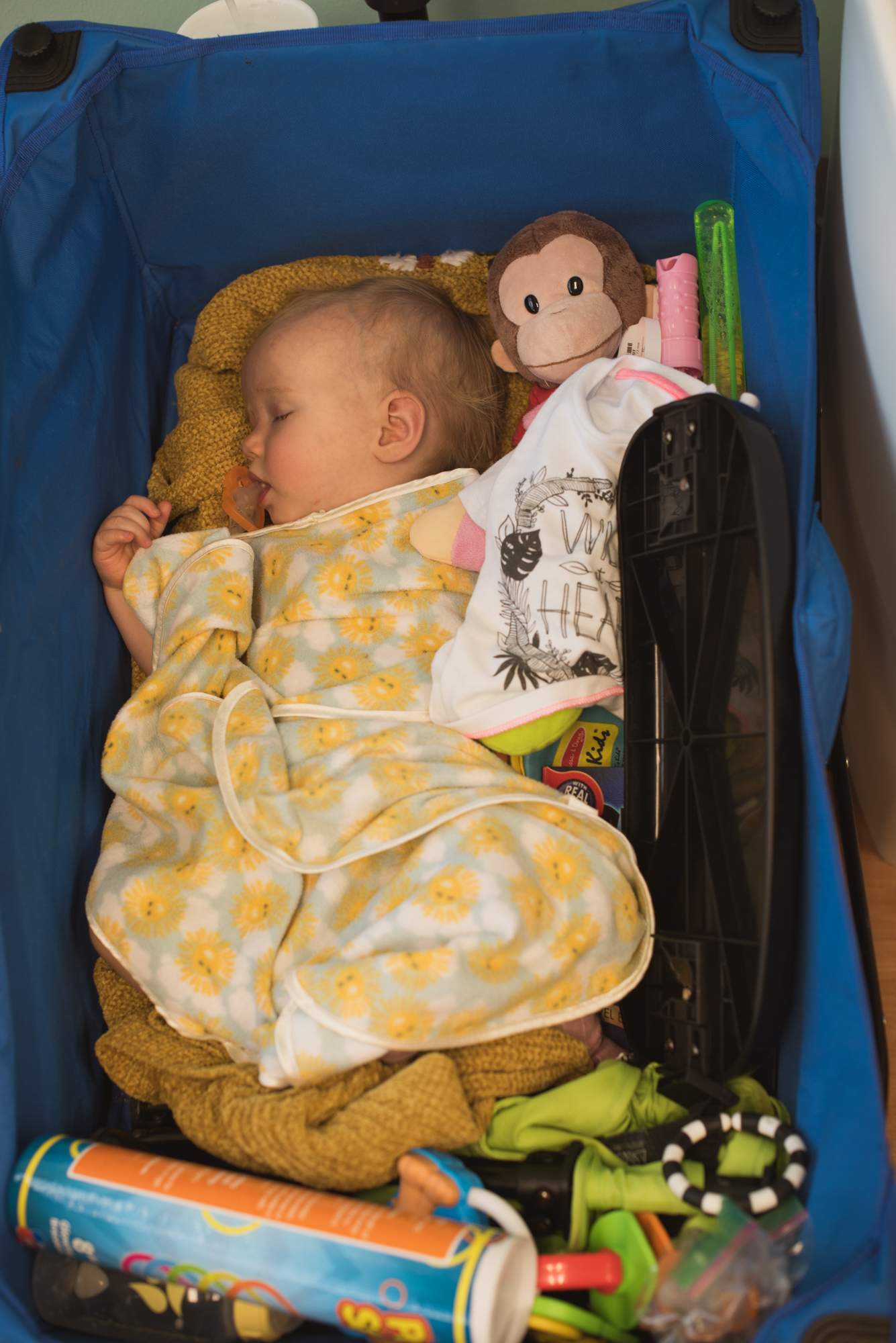 We also saw an ophthalmologist while we were there. Sunley has had a blocked tear duct since birth, and the guideline is usually to let it try and resolved itself until one year old. If it's not resolved by then, usually the kid gets a low-risk tube surgery to fix the issue. I knew it was coming, but of course I just really don't want Sunley having any extra procedures in addition to her already major ones. I was SO relieved when the doctor tried this new-sh technique, and I believe he fixed the problem! I can't really explain it, but basically he pushed really hard in a certain way on her tear duct, and we both heard an audible "pop." He said usually when you hear that pop, the tear duct has been cleared and you will no longer need surgery. That was done on Wednesday, and it has now been a full week with no blocked duct issues! Thank you Lord (and Dr Coats)! On Thursday, Sunley had her developmental outcomes exam, and she did great, considering she was scared of everyone in scrubs. I will never cease to be amazed that she came through this first year without any delays. It just totally blows my mind, and I credit those surprise 5 weeks at home before her PA Band for all of her development success — especially the eating journey.
Everyone still felt good enough about her echo that we are planning to go five months without one! In October, we will go back to TCH for a sedated echo so that we can get all the images we need. In the meantime, we'll be practicing as best we can with playing doctor at home so we can avoid sedation eventually. I kept several medical items from when we were in the hospital to repurpose as toys. Things like a stethoscope that a nurse gave us, feeding tube syringes (I stuffed noisy things in there to shake), and a CLEAN urine sample cup (we used it for dish soap) to put small toys in. If there's anything I can do to make the hospital seem more normal, I'm probably gonna do it….yes, even when it means playing with urine sample cups. And I try to make taking medicine and checking saturations fun. This is easy to do right now, because the big siblings both want a turn, too! Everyone is fascinated by the pulse ox.
The good check up in Houston really has us feeling ready for the next chapter of our lives in Oklahoma! Boomer Sooner ;)